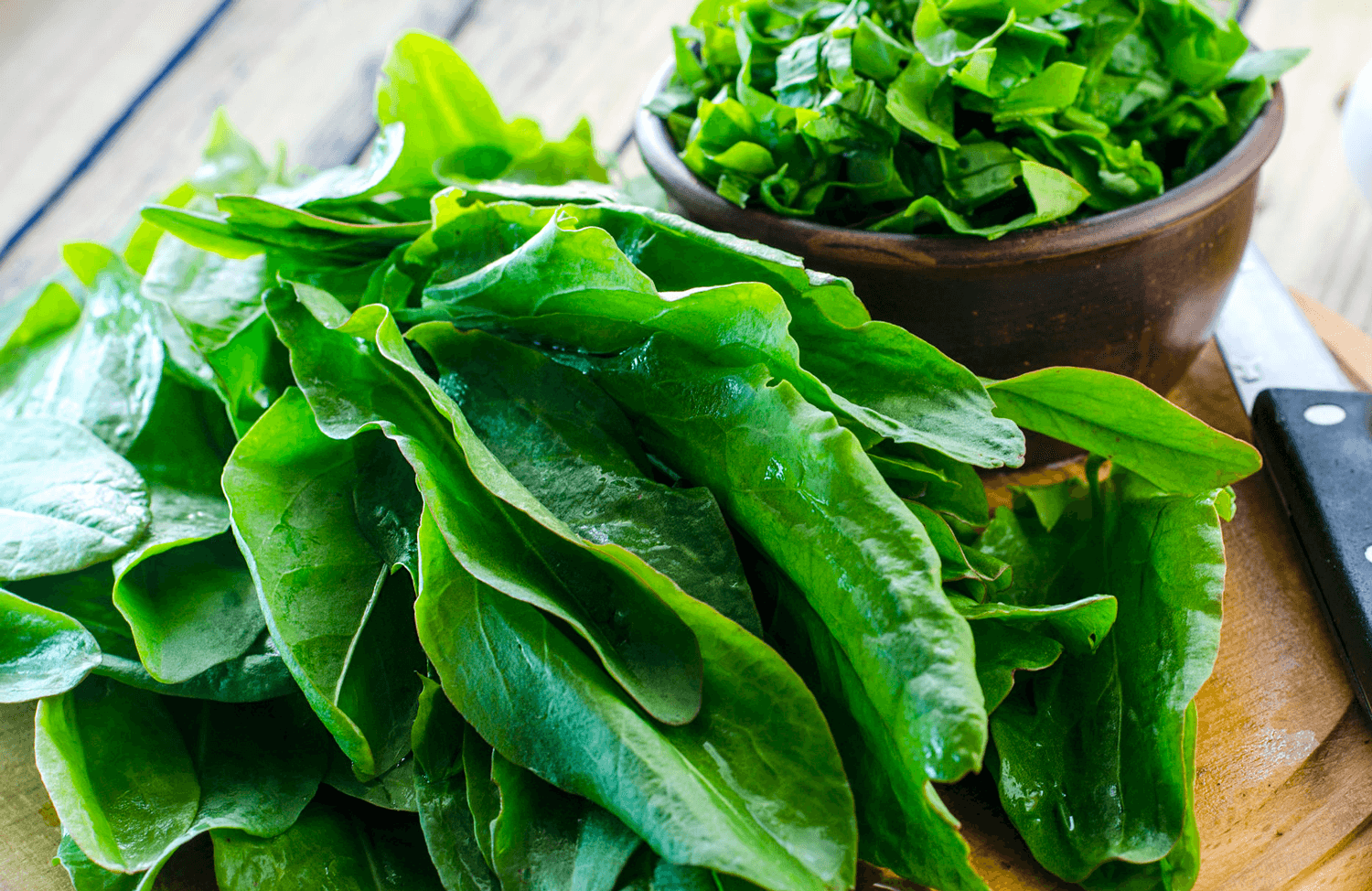 Sorrel
Sorrel, also known as garden sorrel, common sorrel, or spinach dock, moonlights as a leafy green but is technically a perennial herb (think mint or sage) from the buckwheat family.
The buckwheat family, known as
Polygonaceae
, also include rhubarb,
seagrape
, and two species of buckwheat!
 
Like other nutritionally dense leafy greens, sorrel is low in calories and packed with vitamins A and C, potassium, and fiber. Unlike other leafy greens, sorrel doesn't have the earthy taste found in kale or spinach; instead, the slender, arrow-shaped leaves and juicy stems offer an intense, acidic tang along the lines of sour kiwi or lemon zest.
Lesser-known in North America, sorrel is a popular addition to a variety of dishes around the world; including stews (Nigeria), soups (Eastern Europe), curries (India), deep-fried appetizers (Afghanistan), salmon escalope (France), and pasties (Greece, Albania).

Sorrel Recipes

In addition to soups, stews, curries, and pastries, these flavourful little greens are excellent in salads, on sandwiches, and in pestos. A few leaves of sorrel are a great way to get greens in your juices and smoothies while adding a delightful touch of lemony flavour!

From the Archives: Presto, Pesto!

A hearty classic with a few clever tricks up its sleeve, this recipe from the archives swapped out basil for sorrel to make a zesty, fragrant pesto that complemented the flaky cod, garlicky bulgur, honey-glazed carrots, blistered cherry tomatoes, and savoury onions that made up this fresh feast. We'll have to feature a sorrel pesto again sometime…

Featuring:
Cod fillets
Cherry tomatoes
Sorrel
Coming Up This Week

That's right, sorrel pesto is back and just as flavourful as you remember it! If you missed it last time around, this recipe is a must-try on the menu this month. The pesto is made with tart sorrel and earthy pepita (roasted pumpkin seeds), spooned over juicy, BBQ sauce-drenched chicken on a bed of roasted root vegetables served with fresh mixed greens.

Featuring:
Chicken thighs
Smoky apple BBQ sauce
Sorrel
Chef's Tip:
Save a cutting of your sorrel and try
regrowing it
to plant in your herb garden.
 
Sorrel is the secret ingredient you didn't know your home cooking was missing. Be sure to add the spotlight ingredient recipe to your basket this week!
 
P.S. Show us what you're cooking with! Tag @goodfoodca in your photos of sorrel and other unique Goodfood ingredients on social media.
 
Image Credits
Feature Image, Image 1-2: via Goodfood