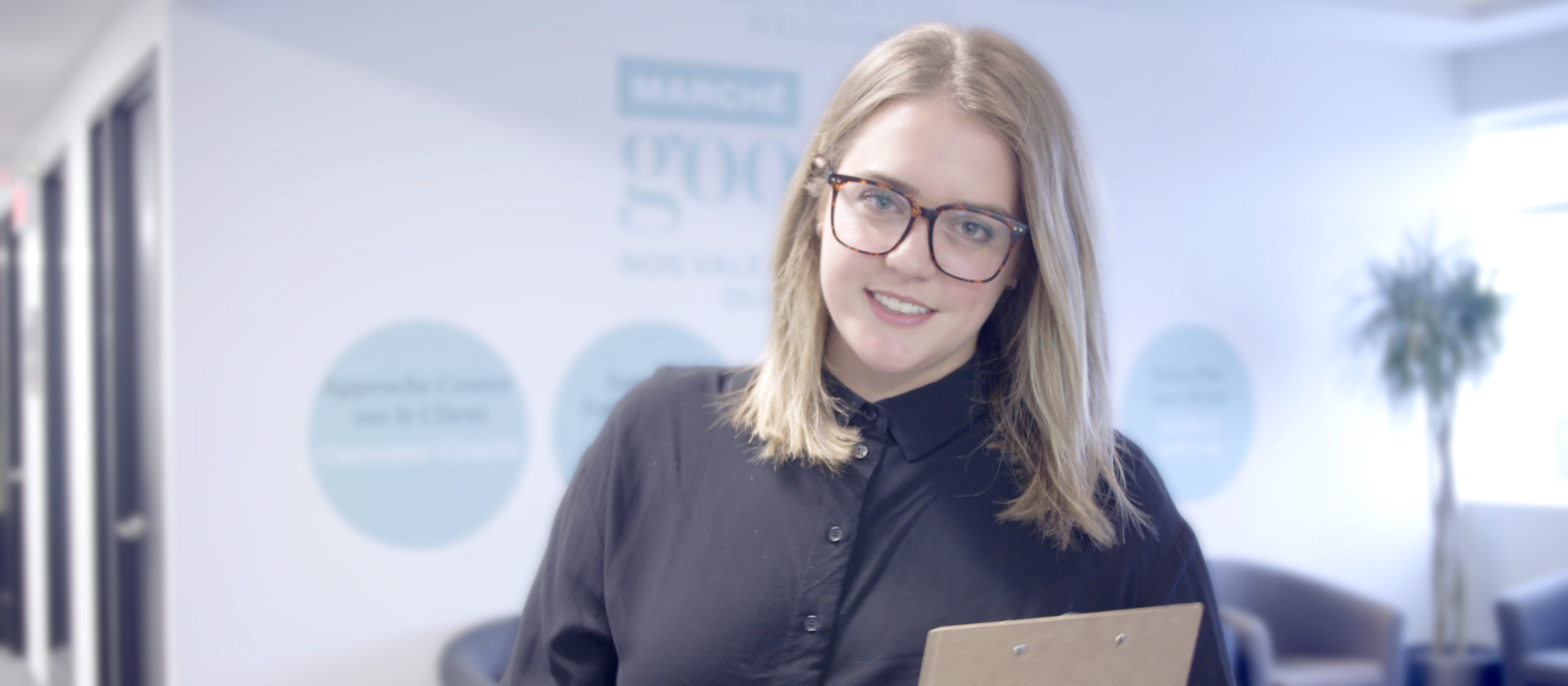 SPECIAL TALENTS with Mariel Desjardins
The most important asset to any organization is its people.

No one will agree more with this statement than Mariel Desjardins, Talent Acquisition Manager here at Goodfood. Most of Goodfood's office employees have at one point or another, been approached by Mariel or been given her seal of approval before starting their professional journeys.

A Concordia University graduate in Human Relations, Mariel knew she somehow wanted to change lives. While completing an internship that touched on resumé building and interview skills, a lightbulb was illuminated that helped her choose her own career path, that would ironically help so many others do the same.
Starting a recruitment job the weekend after graduation, Mariel focused her energy into learning the ropes:

"I had no idea what the term 'talent solutions' really meant, but that's where I really learned the ins and outs of recruitment —  the business side of it as well as the candidate side: phone screening basics, interview essentials, CV screening, compensation and negotiations. The 'sales' aspect of recruitment was something that I hadn't really anticipated — you really need to be able to sell a company to a candidate as well as sell a candidate to a hiring manager. My uncle Gerry told me when I accepted my first job in recruitment to 'always thrive on rejection', and those words of advice have really helped me in my career so far."
While rejection might (very arguably) be motivating, Mariel thrives on more intrinsic aspects of her role as well:
"I can't stress enough how important it is to recruit for a company that you believe in. I come in to the office excitedly every morning, wanting to build the Goodfood team and bring in the best talent so we can provide the best experience to our members. Recruiting like-minded people is motivating and seeing them mesh and do great things together is even more motivating! It's incredibly rewarding walking through the office and seeing all these Goodfoodies I helped bring through the door accomplishing goals, speaking up, sharing their knowledge and expertise, watching them form friendships and sharing in their accomplishments. With everyone working towards one common cause, it really makes it easy to sell Goodfood as a great place to work. Changing jobs is one of the most stressful things a person can go through and it's a honour to be someone's guide through the process when I truly believe it's their best career move."
This type of intrinsic motivation goes both ways, since Mariel is a firm believer that growth is an essential aspect to a fulfilling career and she makes sure the ingredients are in place to make it happen.
The secret? In a word, culture:

"We are doing so much more than just trying to get bodies through the door, we put a huge focus on maintaining our culture while we grow at lightning speed. Each candidate is assessed on not only technical knowledge and experience, but also overall culture fit — focusing on both personality and work experience really ensures driven, motivated and entrepreneurial employees that will grow professionally with us. We are working hard to make sure we are THE best employer. Not only do we have great office perks, but people's professional and personal growth are guaranteed under our roof — we let our employees build their future with us, it's liberating and exciting."
So what makes someone a good fit for Goodfood? In Mariel's words:
"Someone who is highly adaptable and self-motivated. There's no micromanagement here and your motivation to constantly do better is very important, entrepreneurial mindsets (if it doesnt work — how can I fix it immediately and then how can I fix it in a more sustainable way), someone who's not afraid to fail fast and recover even faster and someone who loves and wants to talk about food in and out of the office — I'm talking coffee machine chats comparing meals/recipes/ideas."
While Mariel could talk about her love of soup all day, her *other* words might have resonated with you, in which case, please consider the ancient Confucian proverb, "Choose a job you love and you'll never work another day in your life".
After all, Goodfood is hiring!
_____________
See what jobs Mariel is hiring for, check out Goodfood's career page!