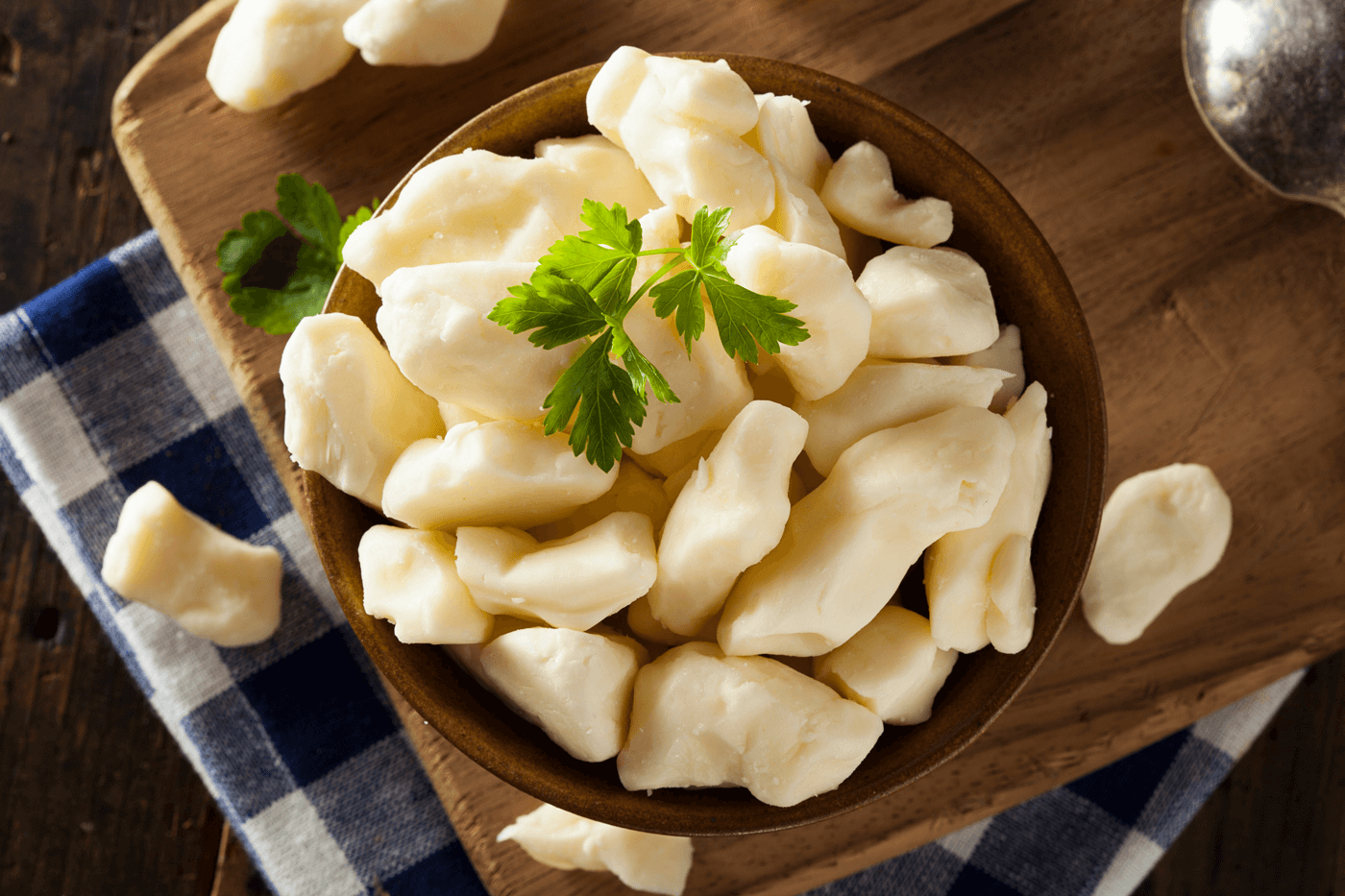 Squeaky Cheese (+ How to Make Homemade Poutine!)
*squeak-squeak* What's that sound? Cheese curd, better known as squeaky cheese! A staple of Québécois cuisine and the star of any proper poutine, squeaky cheese gets its nickname from the sound it makes when you bite into a fresh, creamy curd.
Made from pasteurized 100% Canadian milk, these salty snacks aren't just fun to eat, they're also an excellent source of calcium and protein! Dip them in jam for a sweet and salty breakfast side, add to a charcuterie plate, or use as a quintessential topping to finish off your very own homemade poutine!

How to Make Homemade Poutine

Poutine (pronounced poo-tin) is a dish of french fries slathered in steaming hot gravy, topped with a mountain of cheese curds. Rich and hearty, this traditional Québécois dish can now be found all across the country and has even made its way to some parts of the United States.
It's easy to understand why this delight is catching on; everybody loves fries, gravy, and cheese! Plus, it's completely customizable, meaning you can add just about anything you'd like on top. Let's cover the bases first to ensure every poutine is a total poutwin.

Fries

Good quality fries made using high-starch potatoes are the key to delicious poutine. Fry or roast them, cutting them any way you'd like — from shoestring to steak cut to wedges. Thicker potatoes will give you a somewhat rustic feel, while a thinner cut will help recreate that classic restaurant experience.

Gravy

Get the gravy boat! A good, hearty, hot gravy is essential to good poutine. Not only will it melt the cheese a little, but it will also bring all the elements together, turning mere ingredients into a cohesive dish. Here's how to make your own homemade gravy:
In a medium bowl, combine demi-glace, your favourite fresh or dry herbs (like rosemary, sage or thyme) and 1 ½ cups of water. Mix well to combine.
Place the demi-glace mixture in a pan where meat has just been cooked, soaking up those remaining juices. Heat on medium-high and scrape up any browned bits (fond) from the bottom of the pan, 2 to 3 minutes, until the gravy has thickened.
Reduce the heat to low and let simmer gently, stirring from time to time, until ready to serve.
Toppings

It's now time to go wild! You could, of course, stick with classic poutine, but feel free to use your imagination to create a one-of-a-kind version available on your kitchen's menu for a limited time only! Take a peek in the fridge — this is a perfect time to use up leftovers to avoid food waste.
Try adding shredded cooked meats like Fully Cooked BBQ Chicken Breasts with Fiery Hot BBQ Sauce, BBQ Pulled Pork, Braised Beef on top, or fry up some Lean Ground Beef, Thick-cut Bacon, Diced Pancetta, or Lobster Meat for a tasty topping. Sprinkle with Greek-style feta for a creamy, salty finishing touch. And of course, don't forget the squeaky cheese!
Find these toppings and more on your selection page.

Coming Up on the Menu: Poutine!

This week, indulge in a feast fit for the whole family. Poutine for dinner can be a nutritious option when you make it from scratch with scrumptious, protein-packed pork mini-meatballs and oven-baked fries! Up the veggie factor with green peas and mushrooms and kick the flavour into overdrive with a luscious, savoury mushroom gravy topped with squeaky, salty cheese curds.

Featuring:
Ground pork
Mushrooms
Cheese curds
 
So, what will you put on your poutine? We can't wait to see how you dress up your fries, gravy and squeaky cheese!
 
Don't forget to tag @goodfoodca in your photos of squeaky cheese and other unique Goodfood ingredients on social media!
 
Image Credits
Feature Image, Image 1-2: via Goodfood