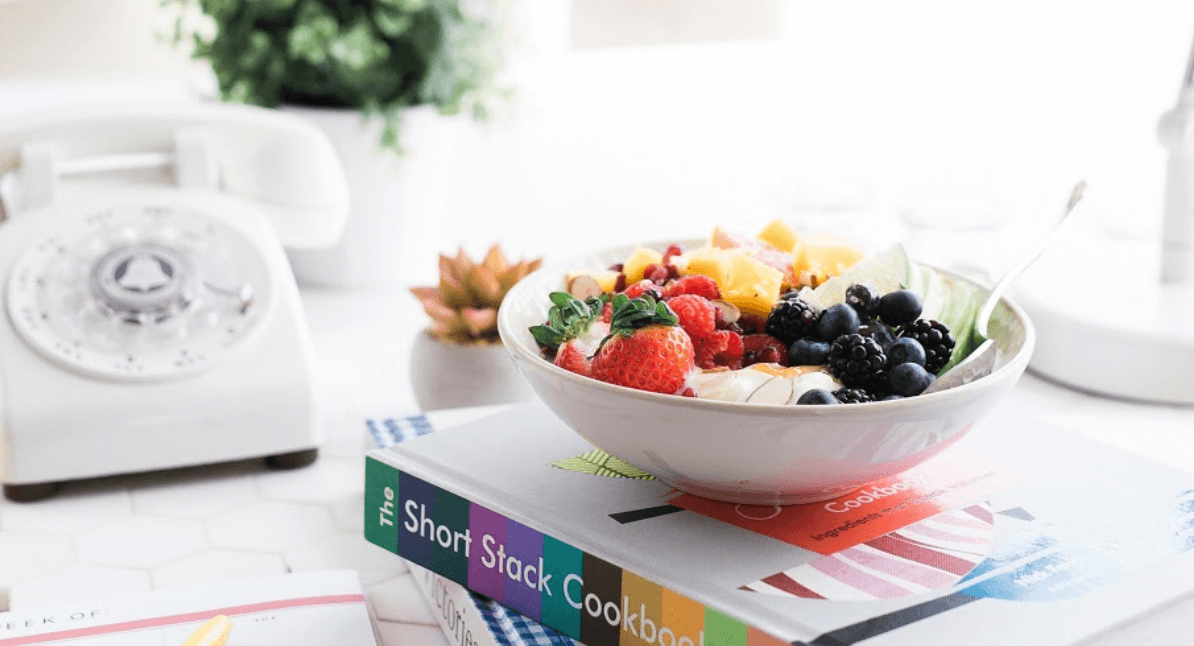 Staying Healthy at Home
Enjoying a smoothie on the way to work, grabbing a healthy lunch at your favourite cafe, unwinding at yoga after a long day — we'll be able to do it all again when the time is right, but in the meantime, we need to find new ways to stay healthy and active while we stay home.
We checked in with Goodfood's Nutritionist Olivia Menzies, R.D. to share her tips and tricks to staying happy and healthy while our bodies and minds adjust to this new normal.

Eating Healthy at Home

Our inboxes and social feeds are filled with calls to ditch the chips and eat healthy while we're at home. Is that a sign that you should completely overhaul what you eat? As Olivia explains, this isn't the time to revolutionize your diet. "A sustainable healthy "diet" is best achieved one small step at a time." Of course, making healthy food choices is always important for your overall wellbeing, but the key to achieving your goals is balance.
The first step to a balanced diet is following Canada's food guide. "A healthy diet consists of a variety of whole foods most of the time. As the guide recommends, we should be consuming lots of vegetables and fruits (fresh, raw, cooked or frozen), whole grains, protein, and lots of water."
The food guide also suggests being mindful of your eating habits, which means taking time to sit down and enjoy your meals and listening to your body when it's telling you you're hungry (or full). The food guide also suggests planning what you eat, cooking at home more often, and eating with others.
Although that last one is a little tricky at the moment, making connections while we're at home is a big part of staying healthy. Even if we can't get together in person with our loved ones right now, we can still spend time together virtually. Consider cooking a recipe with your friends or family via video call and enjoying the meal together while you chat. Eating is a social event, after all!
The second step to a balanced diet is occasionally indulging in our favourite foods, no matter what they might be. During tough times, depriving yourself of food that brings you joy is not conducive to your physical or mental health. "Savouring and appreciating what's on our plate is all part of the package. A fun way to treat ourselves is by learning how to make special treats at home or enjoying favourites from local businesses," shared Olivia.

Staying Active at Home

On top of quarantine cuisine trends, there are a lot of Live workouts and fitness app free trials on our feeds these days. If you feel like the pressure's on to drop unhealthy habits and come out of self-isolation in better shape than you went in, you're not alone. "We've been seeing a lot of "quarantine trends" circulating online encouraging people to use this time to transform habits and emerge as our most healthy selves," says Olivia. "It's important to recognize that "unhealthy habits" can have different meanings to different individuals."
Although staying in means we're probably not being as active as we were before, exercising is an important part of maintaining your physical and mental health and reducing stress. That being said, you're under no obligation to become a fitness buff if you weren't one before! Like your diet, your activity routine should have balance.
Set fitness goals and push yourself to achieve them, but not to the detriment of your mental health. Find a balance that keeps you active, healthy, and feeling good. Most importantly, listen to your body!
Here are a few ways you can stay active while staying at home:
Stand up and stretch every half hour.
Take short walks or jog around the block.
Find opportunities during the day to do light exercises (like during a meeting).
Follow an online workout, yoga, or dance class.
 
If you exercise outside, make sure to maintain social distancing to keep yourself and your neighbours safe.

Practicing Self Care at Home

Like a healthy diet and physical activity, practicing self-care is an essential element to healthy living. "A balanced diet along with exercise, adequate sleep, stress management, and relaxation helps promote a healthy immune system," explains Olivia.
Here are a few ways you can practice self-care while staying at home:
Take time to do things that you love.
Get creative.
Check something off your to-do list.
(Safely) get some sun.
Meditate.
Read a book.
Enjoy a hot shower or bath.
Keep up your skincare routine.
Virtually connect with friends and family over a happy hour, game night, or meal together.
Give yourself permission to relax, disconnect, and decompress.
At the end of the day, get a good night's sleep.
 
How are you staying healthy and active while staying at home? Share your tips and tricks with us on social @goodfoodca!
 
Image Credits
Feature Image: via Unsplash