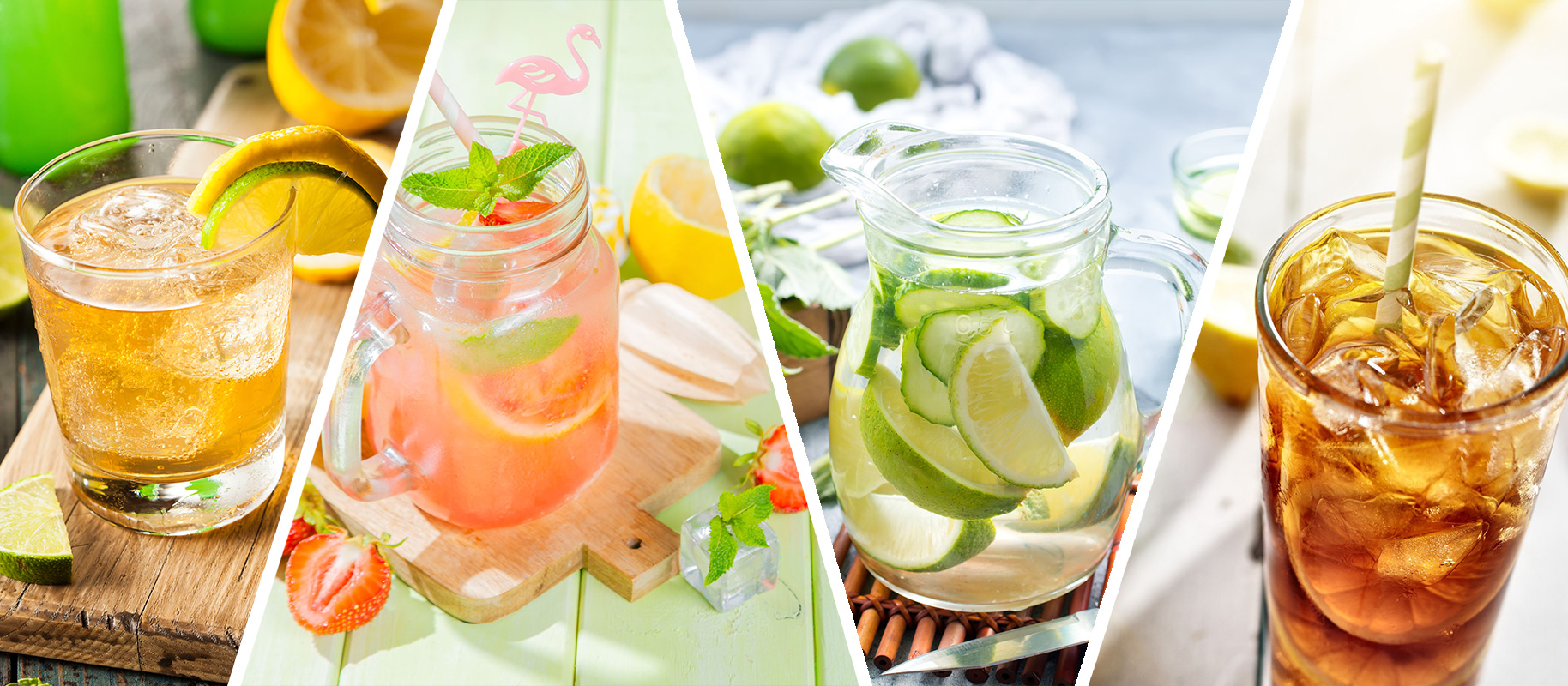 SUMMER SIPS to Pair with Your Homemade Meals
Summer's heating up and we want you to stay refreshed while savouring your delicious homemade meals! With your taste buds in mind, we went ahead and picked out four of our favourite easy alcohol-free drink recipes that will complement some of the must try recipes this month.
Homemade Ginger Ale
Try it with: Smoky Pork Chops with Pickled Baby Pepper Relish (Easy Prep menu, week of June 17th)
What's better than devouring perfectly grilled pork chops for dinner? Savouring them with a cold, fizzy ginger ale! The tangy, gingery freshness of your homemade soda and the smoky taste of your meal will combine perfectly on your palate for a summer evening you are sure to remember.
Recipe (makes 4-6 servings):
Ingredients
1 1/2 cups chopped and peeled ginger
2 cups water
3/4 cup brown sugar (or to taste)
5 cups chilled sparkling water
3 tablespoons fresh lemon juice
Pinch of salt

Directions:
In a small saucepan, combine chopped ginger and bring to a low simmer.
Leave, partially covered, for 45 minutes.
Remove from heat and let steep for 20 minutes, covered. Use a sieve to strain out any pieces in the liquid into a bowl.
Return the liquid to the saucepan, adding in sugar and salt and mixing over medium heat, stirring until the sugar has dissolved.
Place the syrup in the refrigerator until it is chilled.
Mix ginger syrup with lemon juice and sparkling water in a pitcher.
Serve and enjoy!
---
Strawberry Basil Lemonade
Try it with: Poutine Burgers with Homemade Gravy, Oven Fries & Salad (Classic menu, week of June 24th)
Pair the rich flavours of this classic Canadian/Quebecois dish with something sweet and refreshing. The bright & fruity strawberry-basil taste of this lemonade will balance out the savoury flavours of the delicious cheese and gravy in the burgers. This recipe is easy to make ahead of time and is sure to be a hit!
Recipe (Makes 4-6 servings):
Ingredients
10 lemons (about 1 cup fresh lemon juice)
3/4 cup white sugar (or to taste)
4 cups water
10-12 strawberries, tops removed
1/3 cup fresh basil
Ice

Directions:
Juice the lemons and transfer the juice into a large pitcher.
Add the sugar and the water.
Stir to combine and dissolve the sugar.
Add the strawberries and basil.
Blend until the mixture turns pink.
Place in the refrigerator to cool the mixture or serve over crushed ice.
Enjoy!
---
Lime-Cucumber Sparkling Water
Try it with: Red Miso-Garlic Striploin Steak with Fresh Udon, King Oyster Mushrooms & Gai Lan (L'Artisan, week of July 1st)
If you're a fan of citrus, then this one's for you! Start off by spoiling yourself with a fine-cut steak bursting with Asian flavours, and pair it with the refreshing yet elevated taste of this Lime-Cucumber Sparkling Water. Perfect for a hot summer evening dining al fresco, the light refreshing taste of lime and cucumber will complement your dinner without stealing the spotlight.
Recipe (Makes 4-6 servings):
Ingredients
4-5 limes
1 medium cucumber, thinly sliced
4-5 cups cold sparkling water
Ice

Directions:
Juice the limes and slice the cucumber.
In a pitcher, combine the lime juice, cucumber slices and sparkling water.
Refrigerate for at least 30 minutes to allow the flavours to combine.
Serve with ice and enjoy!
---
Easy Homemade Iced Tea

Try it with: Butter Chicken Naan Pizzas with Pineapple Morsels with Crisp Green Salad & Creamy Lime Vinaigrette (Family menu, week of July 8th)
Nothing tastes like summer more than homemade iced tea. Pair this drink with our Butter Chicken Naan Pizzas for a fun duo that combines the best notes of the season and has the perfect balance of flavours. This is a combo the whole family is guaranteed to love!
Recipe (Makes about 8 servings):
Ingredients
8 cups of water
4 bags of tea (orange pekoe or English breakfast)
2/3 cups of brown sugar (or to taste)
2 lemons (1 juiced, 1 sliced)
Ice

Directions:
In a saucepan, bring 8 cups of water to a boil.
Remove the saucepan from heat, add the tea bags.
Let steep for 5 minutes.
Remove tea bags and discard.
Stir in sugar until completely dissolved.
Leave to cool, then transfer to a pitcher.
Add the lemon juice, ice cubes and lemon slices.
Serve and enjoy with the whole family!
---
What's your favourite summer drink? Let us know on social
Don't forget to tag your meals and perfect drink pairings on Instagram: #goodfoodie or @goodfoodca!