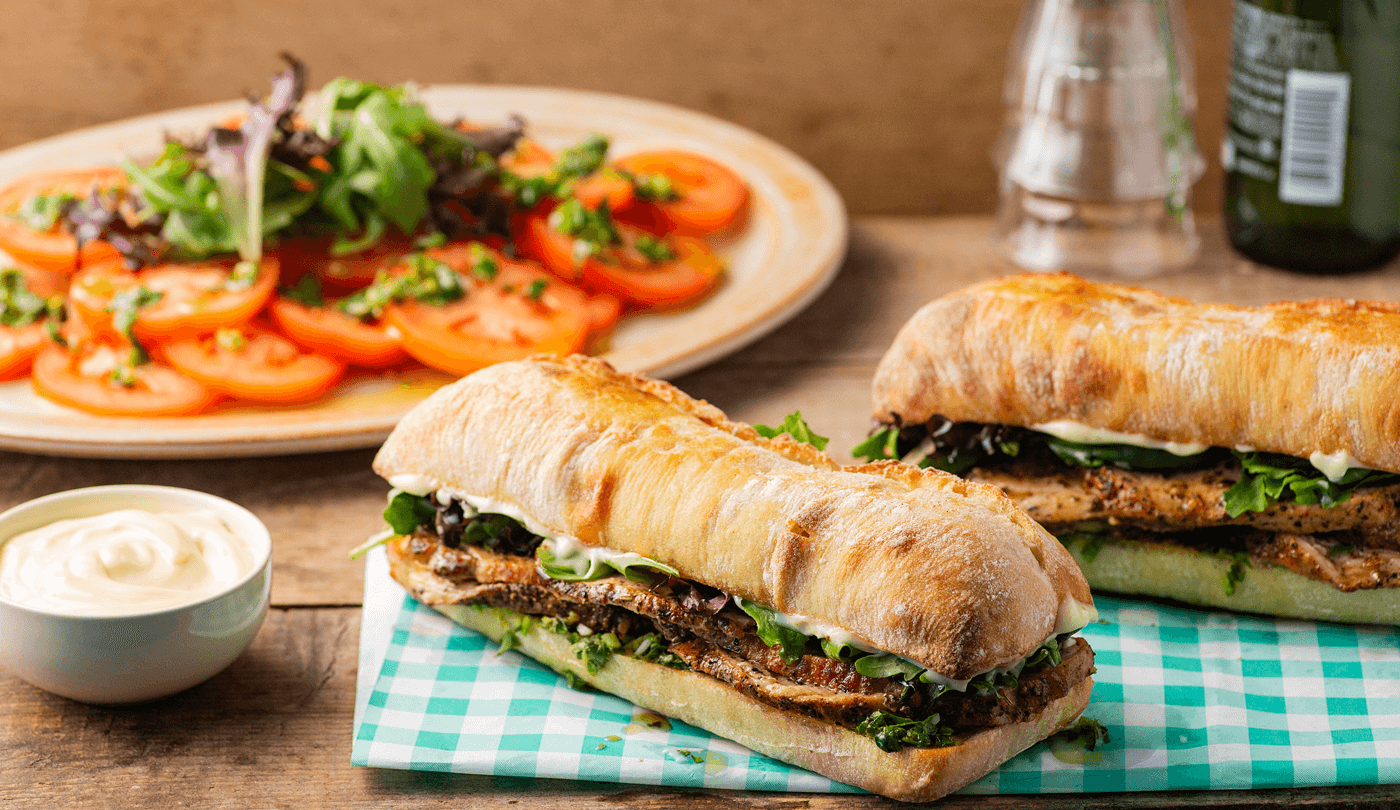 The Ultimate Guide To Making A Better Sandwich
A sandwich is so much more than a lacklustre filling slapped between a few slices of bread. With a solid foundation, flavourful layers, and thoughtful finishing touches, a sandwich can be a satisfying meal unto itself.
So forget the mushy bread and mystery meat of school lunches past, your sandwich game just got a major upgrade! Read on for a few tips to help you create a tasty, beautifully built, and perfectly balanced sandwich.

Building a Strong Foundation
Choosing the Right Bread

The best sandwiches start with the best bread. If you're not tempted to sneak a bite before you start building your sandwich, you might want to consider a bread upgrade to start off on the right slice. Only have plain white bread at home? Give it a little extra love by buttering it up and pan-grilling on both sides.
Looking to reduce your bread intake? Try an open-faced sandwich or swap out your bread for pita or tortilla.
 
When choosing your sandwich bread, consider the type of filling you'll be putting inside. In general, crunchy bread is best for softer fillings and soft bread is better for crunchier fillings. However, the key is balance: if the crunchy bread is too crunchy and the filling too soft, it will squish out the sides, if the bread and filling have a similar consistency the sandwich can come out mushy.
For a safe bet that has just the right balance between crusty outside and moist inside, slice up a freshly baked baguettine de Paris, olive oil and herb focaccia, or Montreal-style bagel. Slice your selection in even, medium-thick slices and toast until golden brown for a crispy sandwich without any mushy missteps.
Find it on your selection page:
Spread It on Thick

Before you reach for classic sandwich condiment staples like mayo, mustard, and butter, consider upgrading your choice with other ingredients you have on hand like spices, fresh chopped garlic and herbs, or citrus. You can also swap out your go-tos with fresh finds like tzatziki, hummus, or tahini.

Spread a spicy mayo, roasted garlic and onion hummus, or curry aioli on each slice of toasted bread for an instant flavour upgrade and added fat-barrier that blocks juices from seeping into the bread and making it soggy. Be generous with your condiment layer to keep the sandwich juicy!
Find it on your selection page:
Layers of Flavour
Starting with Protein

A quality protein is the key to a game-changing sandwich. Whether it's cured meat like prosciutto or spicy capicollo, smoked salmon, BBQ roasted chicken, or grilled veggies, tofu, or tempeh, keep your protein-to-bread ratio balanced and don't overstuff (unless you're making a smoked meat sandwich, of course, then stuff away!).

Not sure what to do with that cooked pork or chicken in the fridge? Avoid food waste by turning your leftovers into delicious pulled sandwich meat! Simply shred the meat with a fork, heat up a bit of oil in a pan, add the meat, drizzle on your favourite sauce, and heat until warmed.
Take the flavour up a notch with a solid sandwich cheese like spicy pepper jack, salty feta, or extra old cheddar. A well-paired cheese adds texture and binds sandwich ingredients together.
Find it on your selection page:
Layering in Veggies

Give your sandwich the crunch factor with fresh fruits and veggies! No matter what you add to your sandwich, the key is to season everything with flakey sea salt and ground pepper to bring out the natural flavours.
Lettuce and tomatoes are tried and true sandwich ingredients, but you can also experiment with other leafy greens, shredded cabbage, cucumber, sprouts, and herbs like dill and basil for a fresh crunch that complements your protein. If you're adding creamy avocado to the mix, fork mash before adding to the sandwich to avoid slippery slices sliding away when you bite down.
A little note on onions: try quick-pickling them to reduce their pungency and help avoid overpowering the other flavours.
 
If you want to spice things up, layer in banana peppers, jalapenos, or a spoonful of kimchi. For a little zing, add creamy slaws or tangy pickles.
Find it on your selection page:
Finishing Touches for the Perfect Sandwich

You've carefully selected your ingredients and seasoned everything like a pro, now it's time to load that sandwich up! For stability, alternate slippery ingredients like tomatoes with drier ingredients like leafy greens.
Remember to keep your proportions in check — after all, your sandwich has to fit in your mouth!

As you're preparing to serve, slice the sandwich diagonally or down the middle (dealer's choice), letting the knife do the work. Transfer to a plate and pair with a side salad, roasted potatoes, or a handful of your favourite chips.
Keep an eye on your selection page for more even sandwich-friendly ingredients coming to your selection page soon!
 
Image Credits
Feature Image, Image 1-3, 5-6, 8-12: via Goodfood
Image 4: via Unsplash
Image 7: via Unsplash
Image 13: via Unsplash