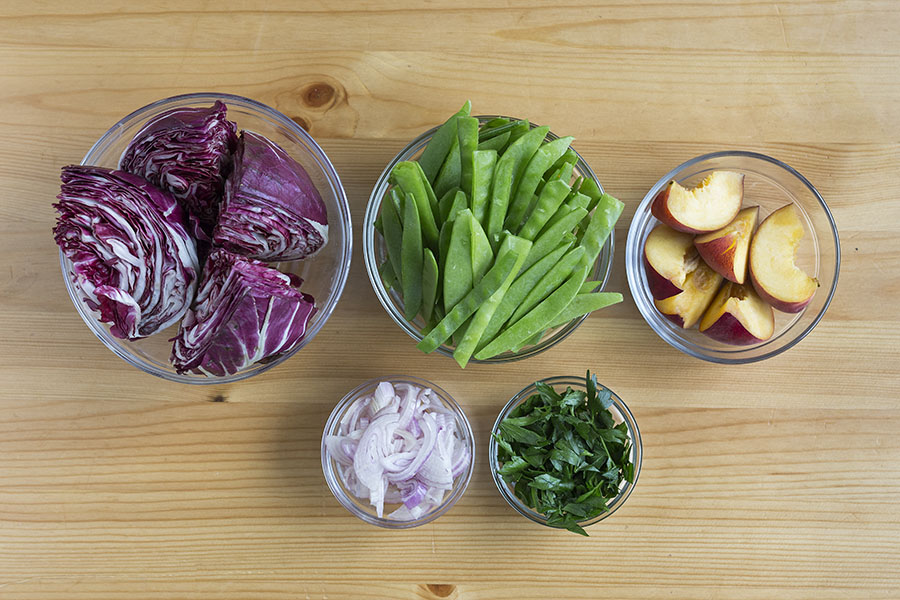 What is Mise en Place?
One of the first things all chefs will learn in their training is the importance and simplicity of mise en place, which translates to "set in place."
Practicing the effortless (yet easily forgotten) habit of preparing, cleaning, chopping, and measuring ingredients and gathering needed kitchenware before you start cooking will completely transform the way you feel about making meals.
With your mise en place done, you'll be more prepared and less stressed so you can enjoy the experience to the fullest. After all, the act of cooking should be less of a task and more of a treat!
With Goodfood, you're halfway there. Think of us as your very own sous-chef, gathering ingredients and portioning them out on your behalf. Your mise en place can range from very little (thanks Easy Prep!) to a bit more prep required, depending on the recipe and ingredients you selected.
Here's an example of a typical mise en place for Ground Beef Tacos with Homemade Salsa Verde Red Cabbage Slaw & Panela Cheese from our Classic plan:

For this recipe, the mise en place suggests mincing the garlic and shallot, zesting the lime, chopping the cilantro, prepping the tomatillos, and dicing the cheese before you start cooking.
As many Goodfoodies can attest, mise en place is the step where you learn critical culinary tips to bring your cooking to the next level. It might take a little trial and error at first, but you'll learn how to handle a knife, mince garlic, chop shallots (I'm not crying, you're crying!), zest and juice citrus, and many other culinary skills. Even professional chefs have learned a thing or two from our recipes!
We challenge you to indulge yourself and practice the art of mise en place for an entire week. We know you'll notice a difference. Plus, you'll save a ton of time in the kitchen.
See our menu for delicious opportunities to practice your mise en place skills!